18 Days Andamans and South India Birding
January 17, 2018


Bird-watching in South India had always been on my mind and my itinerary. And in 2017 I got the chance to visit India in autumn. We planned a tour of the royal heritage of the Southern region along with a birding tour. It was an 18-day birding trip to the Andaman Islands and the South, and the trip itinerary looked quite an elaborate one. My husband was a bit skeptical about whether we would really be having the fun indicated in the pages or not. But the friend who had recommended the same assured us that it would be the best we would have taken in our lifetime!
We reached Port Blair via Delhi. Andamans are a restricted zone where both national and international tourists need certain permits. After these were done via our tour operator, we were driven to our lodging place. And I must say stepping out of the Airport and just the drive to the lodging place takes you to a different world altogether. Our hotel was located amid thick greens near the beach! And even at noon, we could hear so many birds chirping that my husband pulled out his binoculars. And I had a hearty laugh as he looked at me slyly from the corner of his eye.
After a hearty stuffing ourselves with local cuisines done to our taste, we had a siesta. Early evening we took on the guided tour to the nearby jungles. The guide tried his best to get us a glimpse of the endemic Andaman Teal but it didn't happen. Though we had amazing captures of
Fulvous-breasted Woodpecker, Dollarbird, Collared Kingfisher, Brown Coucal, Alexandrine Parakeet, Red-breasted Parakeet, etc.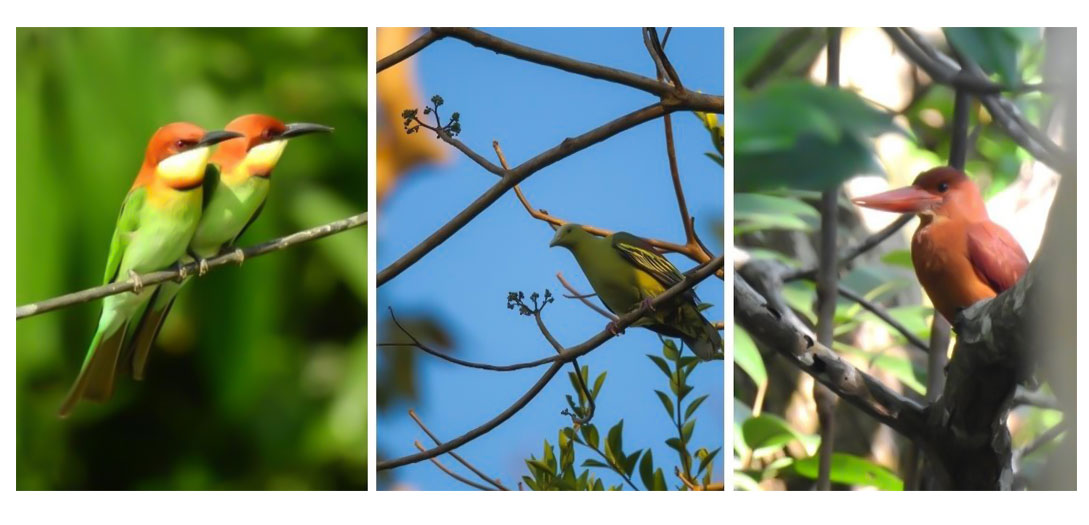 The sun was about to set and we moved to the beach to experience the serene Sunset. Day one here was actually just a half-day, but the peace we felt was as if we had been here for ages. Such is the aura of the Andamans.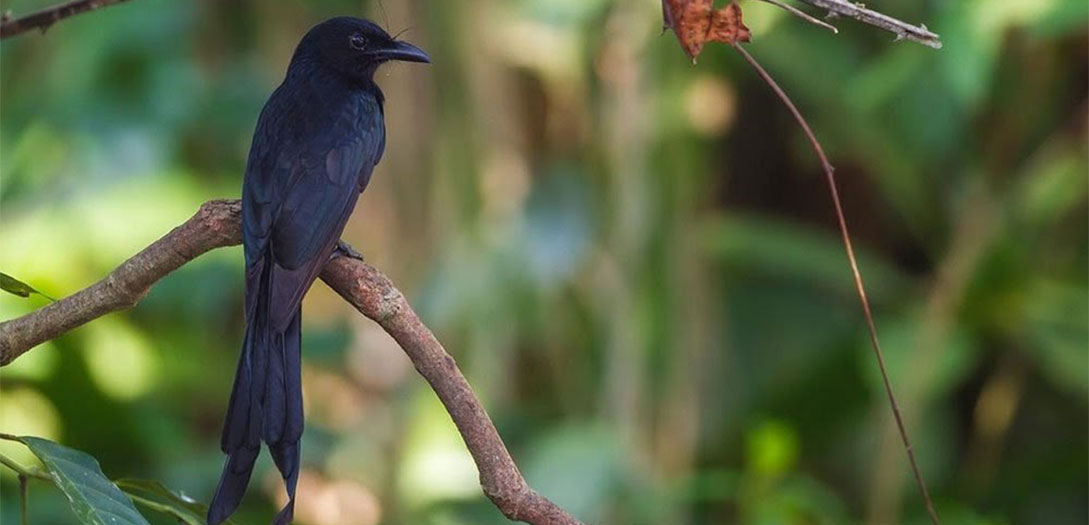 Early morning on day three, we were driven to the Mount Harriet National Park, which is home to more than 250 bird species. This is also the hub of endemic species like Andaman Cuckoo-Dove,  Andaman Wood Pigeon, Andaman Crake, Andaman Serpent Eagle, Andaman Coucal, Andaman Woodpecker, Andaman Cuckooshrike, Andaman Bulbul, Andaman Shama, Andaman Drongo, Andaman Treepie.
But we got the chance to spot only the  Andaman Serpent Eagle and the Andaman Woodpecker. And my husband jumped with joy as he became the only one to sight the rare White-headed Starling Andaman Flowerpecker. I could see his doubts about the tour wading off, as his toes hopped like a child from one region of the national park to another. Even I had a sprint in my walk!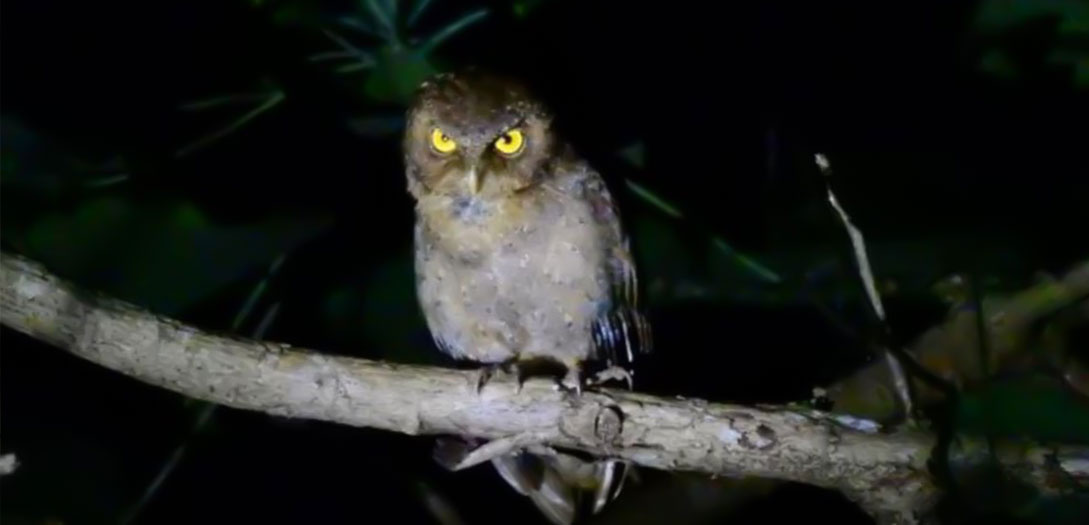 After an extensive day tour of the Andaman, we sat at the canteen region to see the birds come and feed at the umpteen fruit trees planted there. Such a blissful sight. Towards the evening we moved to catch a glimpse of the Andaman Nightjar and the  Andaman Scops-Owl. You must have noticed that I have been pre-fixing Andaman before most of the bird names. This is because none of these species are found elsewhere in the world…because Andamans are bio-reserves, the major regions of which are inhabited by tribes that do not allow entry in their region. They still live in the stone age! The reason why only 10-20% of the Islands can be explored by tourists and also the reason why such avid flora and av-fauna remains conserved here, while the forests are vanishing from other regions on the Earth. While resting in my cozy bed that night, I was into deep introspection – how are we killing our own planet. And don't know when I passed into sleep.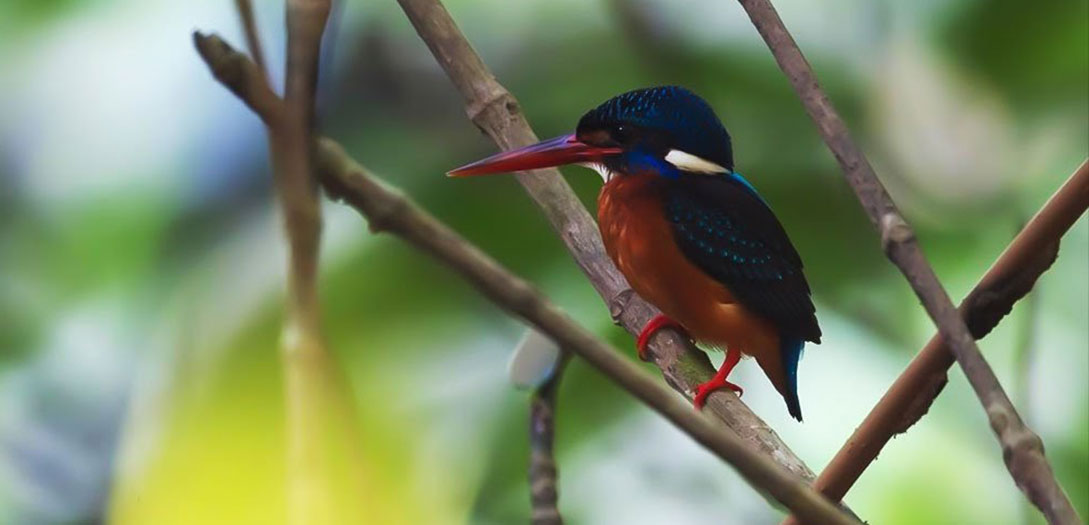 Day four was quite an exciting one as we were taken to two different regions of the Andaman – Sippighat, located to the South of Port Blair and the Chidiya Tapu or Bird Island. Sippighat –  a marshy wetland and good for sightings of water birds & waders. We saw Sunda Teal, Blue-eared Kingfisher, Black-naped Tern, White-bellied Sea Eagle, and even the Andaman Drongo. Local guides told us that more than 100 different species of birds are found here. By the time this tour of Sippighat is over, it is late morning. We enjoyed an early lunch that was packed with us by the hotel. And headed to the Chidiya Tapu meaning Bird Island. This region is actually the primary location of Birding at the Andamans. Chidiya Tapu is a patch of evergreen forest, located South of Port Blair. The birding track actually starts 4 km before Chidiya Tapu and 2 km along the seashore forest. That day it threw open amazing winged beauties for our lenses. The sight of the mother Orange-headed Thrush feeding her chicks; a pair of  Olive-backed Sunbird making love, the White-bellied Sea Eagle taking a flight were simply beyond words. The day had been a hectic one, so by Sunset, we reached our lodging place to dig into yet another sumptuous meal and tuck into our beds.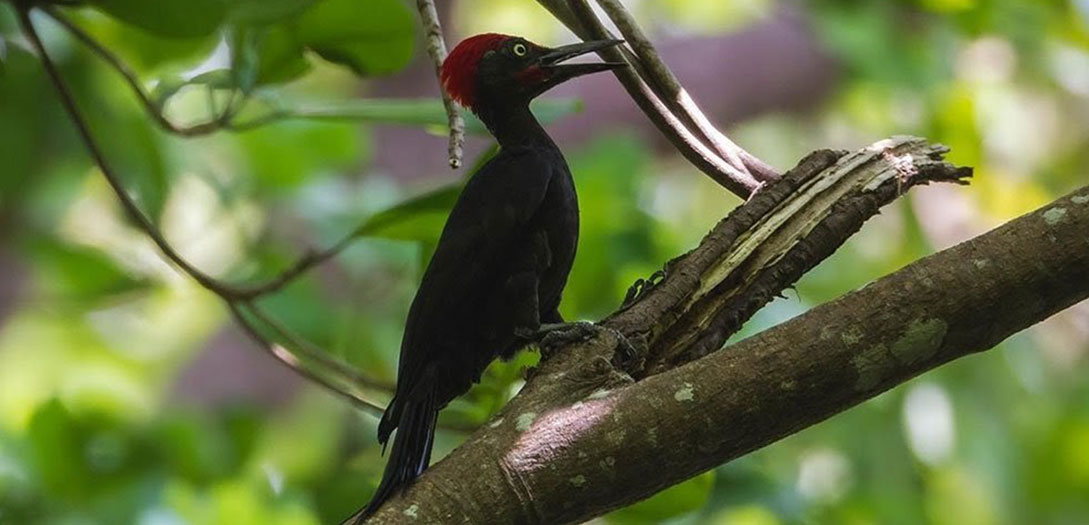 On day five we were taken on an elaborate bird-watching trip of Chidiya Tapu. We were lucky to spot the endemic Andaman Woodpecker, Andaman Crake, Andaman Treepie and Andaman Serpent Eagle. I had to pinch myself to believe that we had really done this. The region has about 180 plus different species of local as well as migratory birds. Other than the endemic species we also saw White-headed Starling, Black-naped Oriole and other such common birds of the region. We called it a day early evening to sit by the beach and watch the Sunset. I have experienced many Sunsets at the beach, but the ones at the Andamans are an out-of-the-world experience. 
The sixth day was quite a hectic one. We flew to Chennai and then to Bengaluru, where we had a few hours halt at the Ranganatha Bird Sanctuary before we headed to Mysore by road. Bengaluru to Mysuru by road is an 80 km drive to a halt at the bird sanctuary was a refreshing break. It is a very compact region, which is by the Cauvery River and thus we take a boat Safari to watch the birds in the region. We enjoyed the Sunset by the river and then our drivers took us to the hotel which was again amid thick jungle. The aroma of the typical Muysuru Dinner welcomed us. It was time to call it a hectic yet awesome day.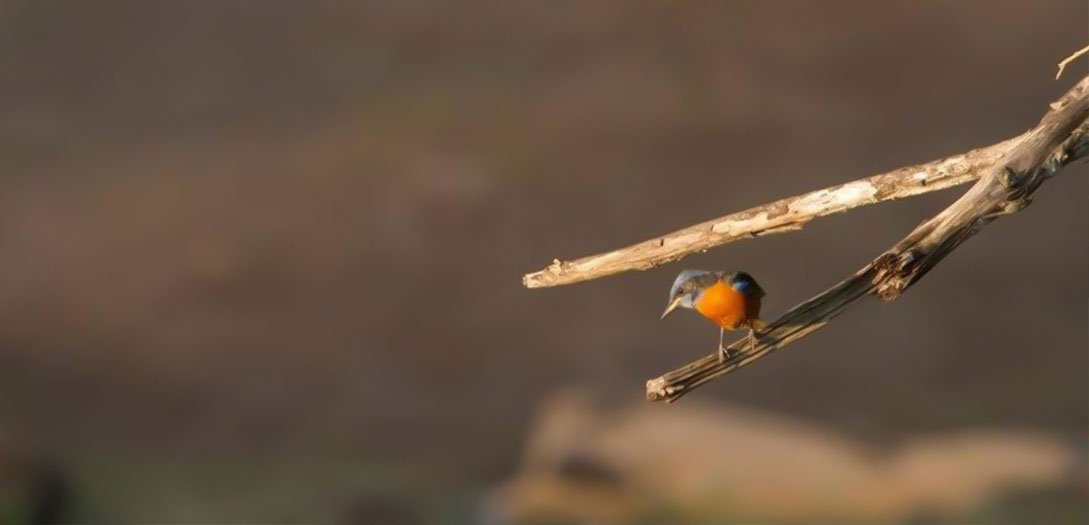 Our guides were amazing birders themselves, so much so that I never had the chance to open the bird-book I was carrying along with me! So the next day when we drove to the Mudumalai National Park, I offloaded the book. I was excited just by the thought of spending two nights at the tents in this world-famous sanctuary, which is home to some 350 species of birds belonging to 48 families – both indigenous and migratory. So the two days were spent getting stunning lens captures of India's national bird Peacock, Grey Jungle Fowl, Malabar Grey Hornbill, Bulbuls, Mynahs, Grey Partridge Quails, Red Spurfowl, Small Green Barbet, Green Pigeons, Brown Dove, Goggle Eyed Plower, The Magpie-robin, Spotted Babbler, Malabar Whistling Thrush, Large Racket-tailed Drongo and many more. I take pride in the majestic flights of the Buzzards, Harriers, Falcons and King Vulture, I had captured through my camera. Great enough to make my husband jealous, since his camera had run out of battery! The evenings were great fun; we would sit by the bonfire, cook meals on the charcoal and enjoy chatting about our experiences as birders. By these eight evenings, I was friends not just with the 12 others on the tour, but the guides as well.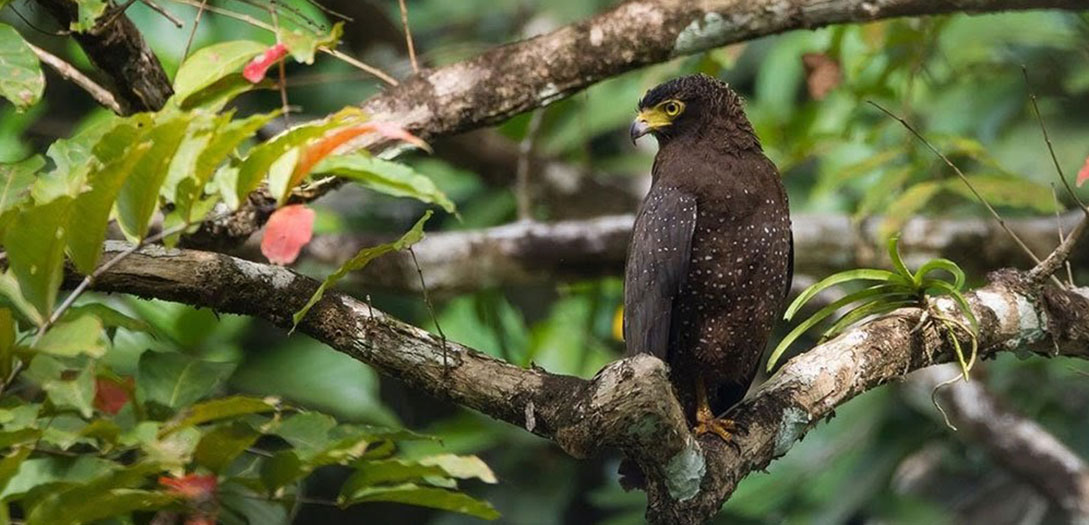 Day nine is about enjoying an enchanting early-morning drive to the picturesque Ooty, where again we have to lodge at jungle huts! The wind that blows into your face in this always-moist region is unlike any other. It leaves you with a romantic feeling! We had reached half of the tour time….time was just flying and my husband was already sad about going back in a few days. I consoled him like I used to pamper my children when they were toddlers! We spent two days in the Ooty Jungles having fun with some 100 species of birds. The White-bellied Shortwings, the Indian Peafowl, Red Vented Bulbuls, Rufous Treepies, Grey Junglefowl, Brahminy Starlings, Chestnut-headed Bee-Eaters, were among the prominent ones. The highlight of the tour was very close shots of the Bonnet Macaques' family; a Crested Goshawk nibbling away its kill; the Pied Bushchat busy in the mating call and the Pond Heron setting eyes at its prey. We also explored the Botanical Gardens of Ooty on the tenth morning and by lunch headed to the Ooty town for some taste of the local culture and cuisine. It was only late evening that we reached back our jungle huts for a meal being simmered by the bonfire. 
The next day we have our finale early morning birding trip to a nearby jungle in Ooty before we slip via a road trip to TOP SLIP.  Located in the Anamalai Hills, Top Slip is known to be the best natural history locations in Southern India. Its outstanding patches of rain-forests are home to the endemic White-bellied Treepie, Malabar Trogon, White-bellied Blue Flycatcher and Black-throated Munia, Wynaad Laughingthrush. The Sri Lanka Frogmouth is also found here among the 150 different species. At the Karian Shola, we clicked large breeding populations of Heart-spotted Woodpecker, Oriental Bay Owl, Red Spurfowl Mountain Imperial Pigeon, Indian Swiftlet, Brown-backed Needletail, etc along with the Yellow-browed Bulbul, Crimson-backed Sunbird, Greater Racket Tailed Drongo. Other than birds, the Top Slip is also home to the world's rarest primate – the Lion-tailed Macaque. And we clicked so many families of this rare monkey, though we failed to spot the endemic Nilgiri Langur. My heart skipped a beat as the leader of our car caravan halted to a stop – a herd of the majestic Asian Elephants was crossing the road! Due to habitation infesting their forests, these mighty ones are not the best-mannered here, we were told. And I could be related to their anger, which comes out of the pain of having intruders at their homeland. More than pity, I felt ashamed.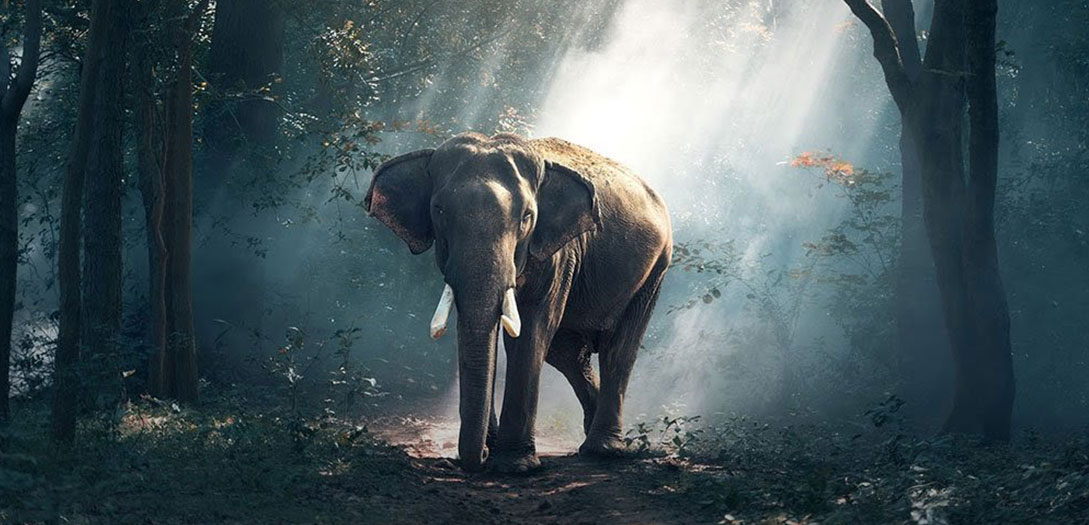 On the twelfth day, we headed to Munnar after a short-birding trip near our lodging place. On the way, we took an adventurous halt at the Chinnar Wildlife Sanctuary – a bio-reserve located between the Western Ghats and the Deccan. It offers excellent birding opportunities for rare, endemic as well as migratory species of birds. In-fact it is home to 150 species from 40 families. My favorite clicks from this place were of the nesting Forest Eagle-owl, Fish Owl resting in its nest, Blue-faced Malkoha feeding its chicks, Grey-headed bulbul pair in love-dance mode and the Mountain Imperial Pigeon that somehow gave me a great pose! By evening we arrived at our huts close to the tea-gardens of Munnar. 
Munnar is the largest green zone of the Nilgiris and home to several rare varieties of Indian birds. Its national parks throw open more than 500 different species out of which about 150 you won't find elsewhere in India. The famous regions for a tour of the wildlife here are the Eravikulam National Park, Mathikettan Choila National Park, Pampadum Shola National Park, and Anamudi Shola National Park. We took an extensive trip of two of these where we exhausted our memory card, despite the fact that we had bought new ones before arriving here! I was delighted by the sight of Eurasian Blackbird, Black lored Tit, Velvet Fronted Nuthatch, Pacific Swallow, Bonelli & Black Eagles. The Sunset at Munnar is a sight to behold. The aroma of green trees welcomed us back to yet another bonfire. Munnar is pleasantly cold at night. And who would not like a south-Indian meal by the bonfire! 
It was the 15th morning. And this time I was sad. In two days' time, we would be heading back home. And I hugged my already nostalgic husband. It was time to head to Thattekad where we would be exploring the Bird Sanctuary over the finale two days of the tour. Oh, how much I wish no one reminded me that we were soon to head back home, but then I realized not just we, none other on the trip wanted to go back! But then….life goes on.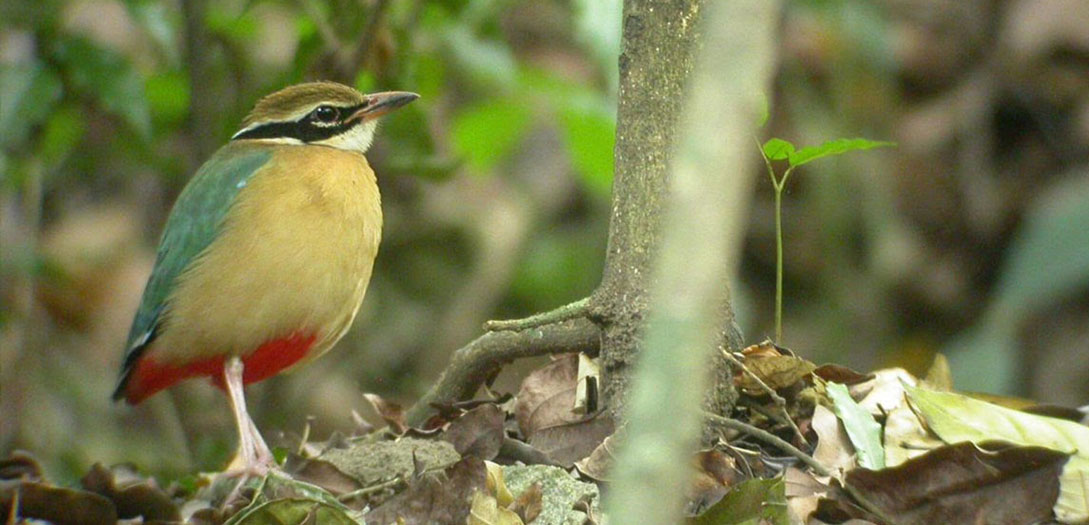 Thattekad Bird Sanctuary is a Bird Paradise on Earth. And I thanked heaven for giving me a chance to be here. World-famous and late ornithologist Dr. Salim Ali rated Thattekad as the richest bird habitat in peninsular India, which is as good as the Eastern Himalayas.  It is not just a Sanctuary, but actually a bio-reserve spread over 25 sq km of forests. Our guide informed us that more than 300 species of birds belonging to over 60 families nest in this region. This is apart from the 50 who migrate to Thattekad in different seasons. We got a very quick glimpse of the rare birds Sri Lanka Frogmouth, Indian Pitta, and Malabar Trogon. Other than that Dollar bird, Emerald Dove, Indian Swiftlet, Whistling Duck, the Red Kingfisher, Water Hen, Yellow Oriole, Racket-tailed Drongo, Black Cormorant, etc are found here in plenty. The water bodies here also threw open some amazing photo-opportunities of Little Tern, Orange Minivet, Wagtail, Greytit, etc. Two days here simply flew away with the winged beauties of the region.
It was time to bid adieu to our trip members and above all our guide Vinod the next day, one of the most humble and knowledgeable people I have ever met. We had become great friends. I was taking back great memories, the amazing camera captures and some friendships for life. And My husband had just one sentence on his lips, playing on repeat- What an amazing birding trip to South India and the Andamans!