Just Tigers at Bandhavgrh and The Majestic Taj
I have always been excited about Tigers and India. So what was better than planning a trip to Bandhavgarh in India, which is one of the best places in the world, with the highest density of Tigers. But we also wanted to see the Taj Mahal. With just ten days at hand, my husband thought it was an impossible task. Who would combine a wildlife holiday with a monument visit? But Asian Adventures made our dream come true!
So we landed in India, in October 2017 for 'Just Tigers at Bandhavgarh and The Taj.' But the trip that unfolded in the next seven days was more than just what meets this tour's
January 17, 2018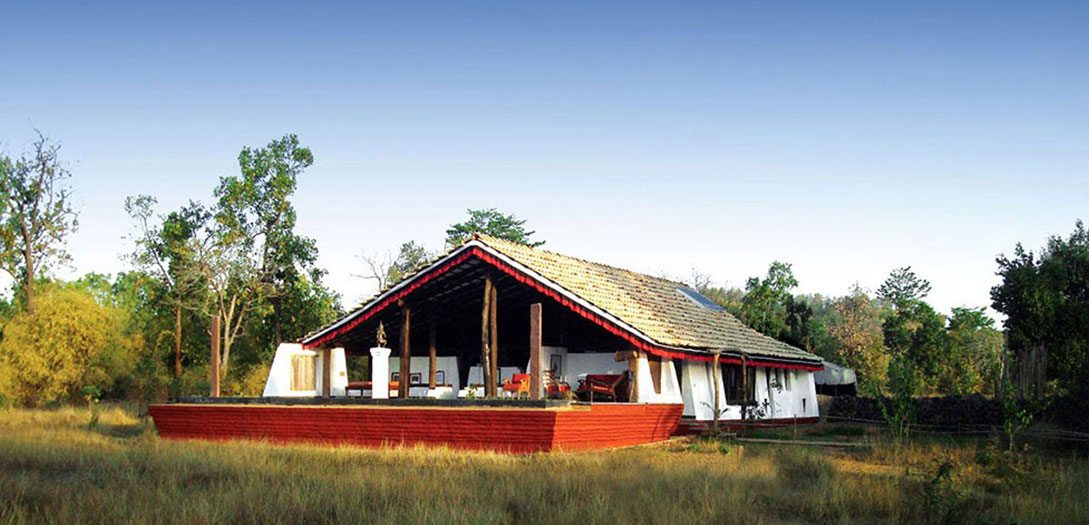 The first day was spent traveling to Bandhavgarh from New Delhi. And when we reached our accommodation, most of us were almost clapping. The Monsoon Forest Lodge is a glimpse of the bygone era chastely preserved in time. Take a look…what a beauty nestling amid dense woods of Bandhavgarh!
Monsoon Forest is a unique eco-lodge with luxury air-conditioned tents and indigenous central Indian mud house styled architecture. With a view of the beautiful grasslands, the forest and the Bandhavgarh Fort in the distance, serenity seeps into you.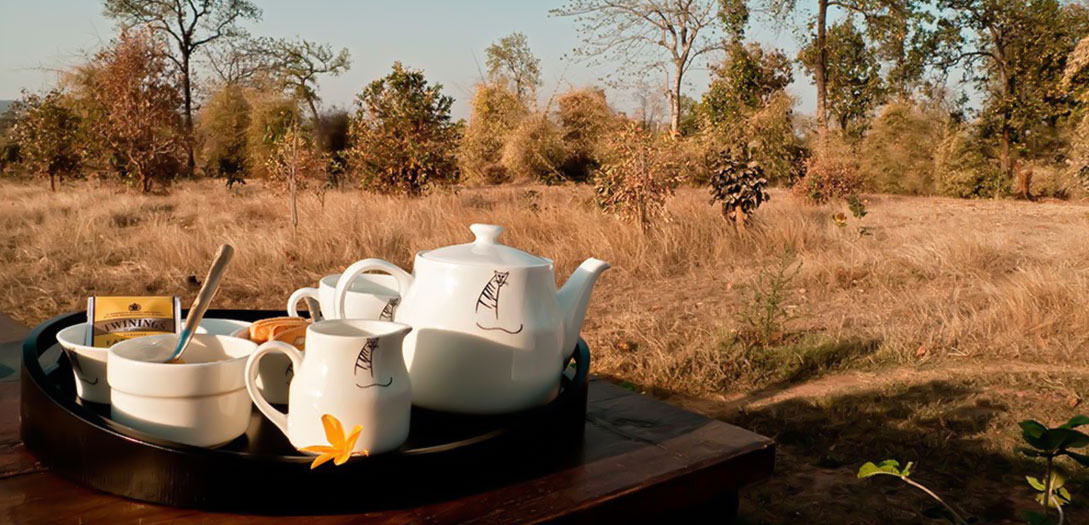 We reached here around 4 pm. And post a shower, while we had snacks, it was time for the birds to return to the nests. The region around the lodge began echoing with the songs of birds and I rushed to bring out my camera. I managed to click some fifteen different birds that evening. And later all of us went Owl and Nightjar spotting in the thickets around the lodge. It was pure fun before a typical village meal by the bonfire. What a beginning to the tour.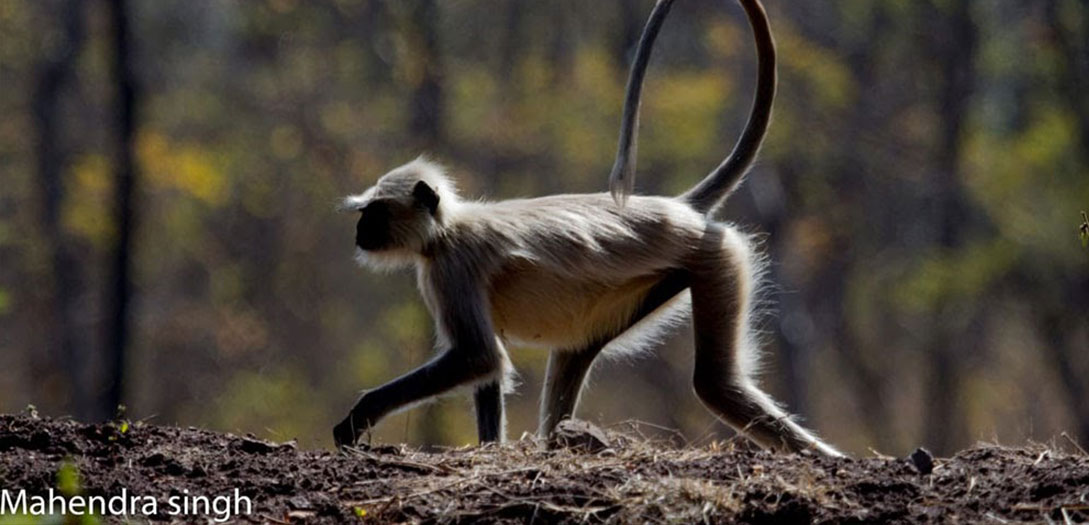 The next day began with Langurs giving us a wake-up call at 5:30 am on the rooftop! We all were laughing at the site since most of us had pushed off our alarms. And if these creatures had not arrived in time, we would have missed our morning tiger safari!
Bandhavgarh has three zones which are ideal for Tiger Spotting – TALA, MAGADHI and KHITAULI. And these are best traversed on jeep safaris for which tourists need prior permits.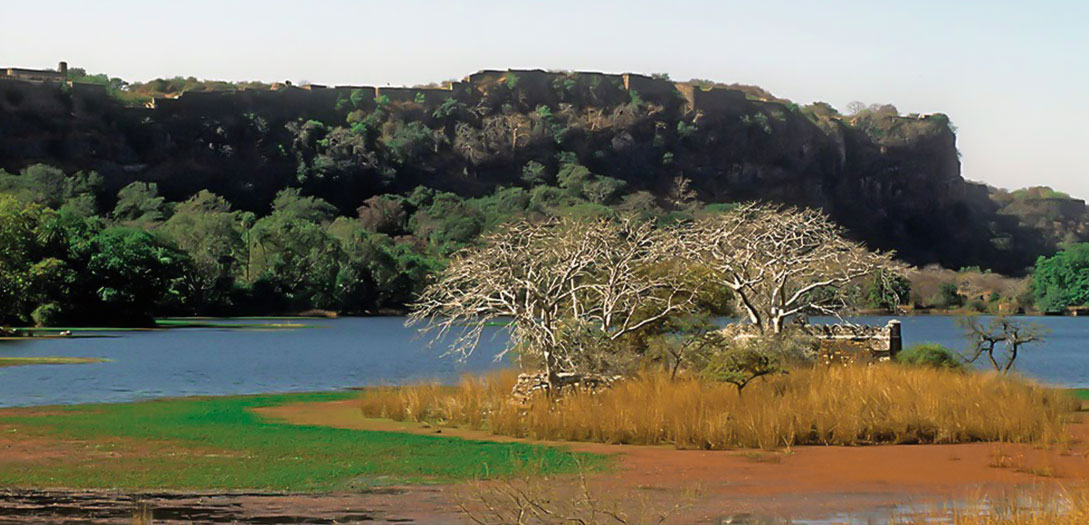 Our guide Deepak was ready with our tickets, permits, packed meals and everything that was required for a fun trip. And Deepak informed us that along with the majestic tigers, we could spot more than 22 species of mammals and 250 species of birds. I was just too excited by the imagination, as the driver steered us into the Bandhavgarh National Park for our first Safari. We were being taken to the ruins of the Bandhavgarh Fort – one of the favorite spots of Tigers and Leopard. Just then a Rhesus Macaque jumped at the bonnet of our Jeep to take a Safari and we all burst into laughter.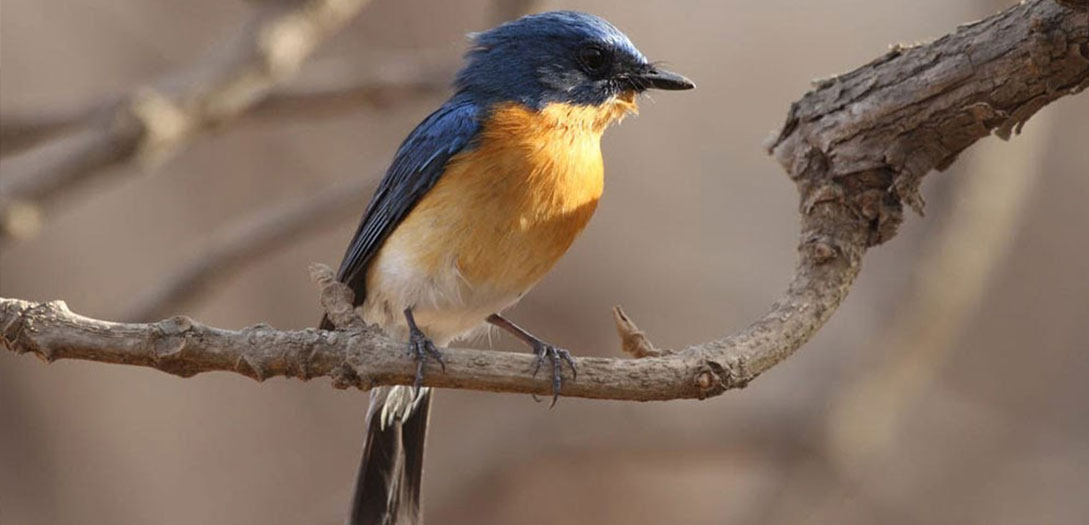 En-route the guide took small stops for bird-watching. Greenish Warbler, Coppersmith Barbet, Purple Sunbird, Small Minivet, Hume's Leaf Warbler, Tickell's Blue Flycatcher, Golden-fronted Leafbird, Black Redstart, Indian Grey Hornbill, Common Woodshrike, White-rumped Munia were a few birds that we spotted that day en-route to the fort ruins. And just when we were thinking the big cat would give us a miss today, one of us shouted, "Look, a Leopard!" A big cat just 200 meters away gave us a spine-chilling stare and slowly walked away into the thickets. while few had frozen with fear, the other daring one like me got a good camera capture!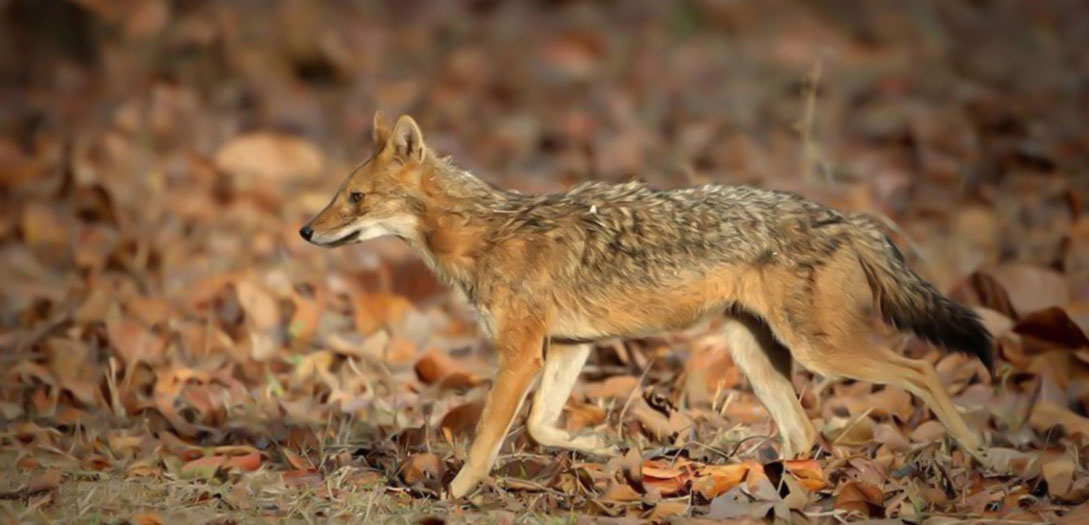 That morning was, in fact, the best morning of all days spent here since we also spotted Blue Bull, Indian Gazelle, Hyena, Jackal, Wild boar, Sloth Bear in the region. By noon we were back to our lodge for lunch where we enjoyed a typical forest meal. And then while some took a siesta before the evening safari, my husband, I and a few others went to the nearby village to have a taste of that life, to see how these people survive on eco-tourism in the region. I was delighted to know that while the men serve as guides at the National Park, the women are the craftswomen in the region. I bought a few for my daughters and neighbors as souvenirs.
At lunch, we got to know that the park would not be allowing a safari due to some unforeseen circumstances. But our guide Deepak ensured that none had a dull face. He took us to the best birding spots around the National Park – a long trek, which resulted in bonding the 15 of us, just like buddies. I guess God up there had planned it this way.
But during the next three days, we took some six more Tiger Safaris in the region, which actually was a wholesome wildlife and bird watching tour. Let me some up the Tiger fun we had in short first: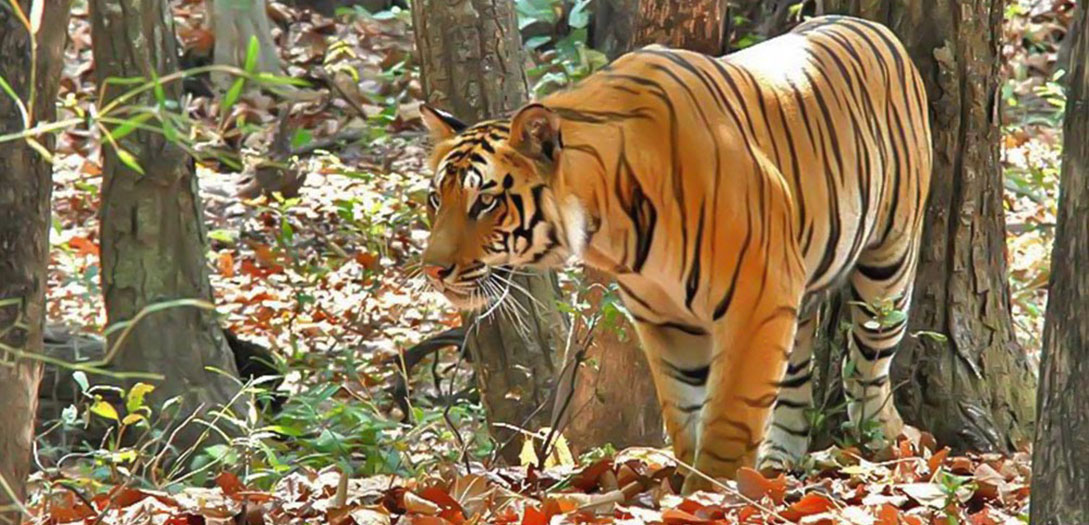 Safari #1 – Tala Zone We sighted a Tigress running away into the woods and more than 50 species of birds. Also a huge sloth bear as a bonus.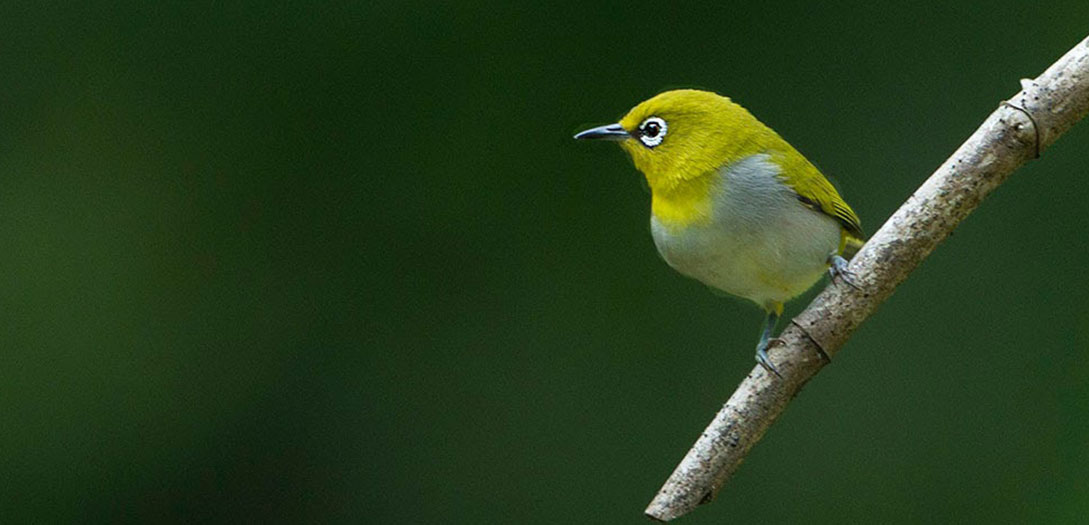 Safari #2 – Magadhi Zone – No Tiger was spotted on this Safari, but we had great shots of Indian Pond Heron, Black-hooded Oriole, Plum-headed Parakeet, Long-tailed Shrike (including one of race tricolor) and Sulphur-bellied Warbler, Jungle Owlet, Tawny-bellied Babbler, Alexandrine Parakeet, Oriental White-eye, Yellow-footed Green Pigeon, Green Bee-eater, etc.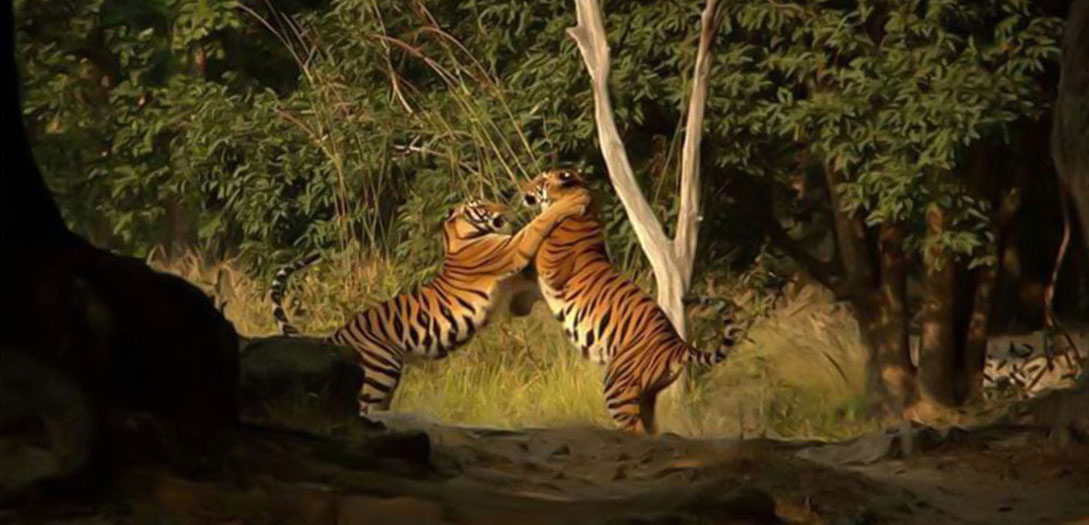 Safari #3 – An early morning trip to the Bhadrashila Lake resulted in spotting not just one but two Tigers. They were a pair that was relaxing at the bank after sharing a Blue Bull kill. What a sight it was. Spine chilling, yet thrilling. Asiatic Jackal, Bengal Fox were also spotted on our way back.
Safari #4 – An evening Safari of the Tala zone the same day gave us amazing shots of three Tiger cubs playing in the woods. Though we could not see the mother, her clear growl could be heard from somewhere nearby. The mother had signaled us not to get close to her babies!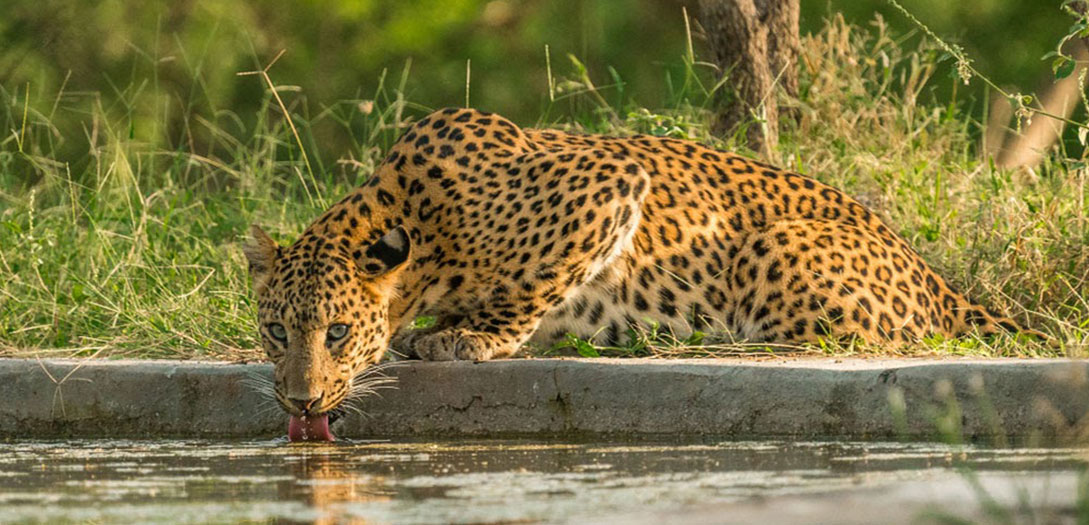 Safari #5 – After an early morning Tiger Safari where we spotted no Tiger but two leopards, we were diverted to the Gadhpur Dam and Bhambhera Dam which are ideal for birding. The vegetation along streams and marshes is rich in birdlife. The common species of birds seen here are Egrets, Egyptian Vulture, Kingfishers, and Indian Rollers, The Blue Bearded Bee-eater, Darter, the Yellow, and Red-Wattled Lapwings.
In between these two last safaris of the trip, Our guide Deepak proposed that we must also see the Baghel Museum. History has it that Maharaja Martand Singh of Rewa captured the first white tiger in this region in 1951. This white tiger, Mohan, is sadly now a stuffed entity and on display in the palace of the Maharajas of Rewa, which is now the Baghel Museum. While taking a trip to the museum, I wondered how someone could kill this majestic beauty. But then I was also happy that gaming is illegal across the world now.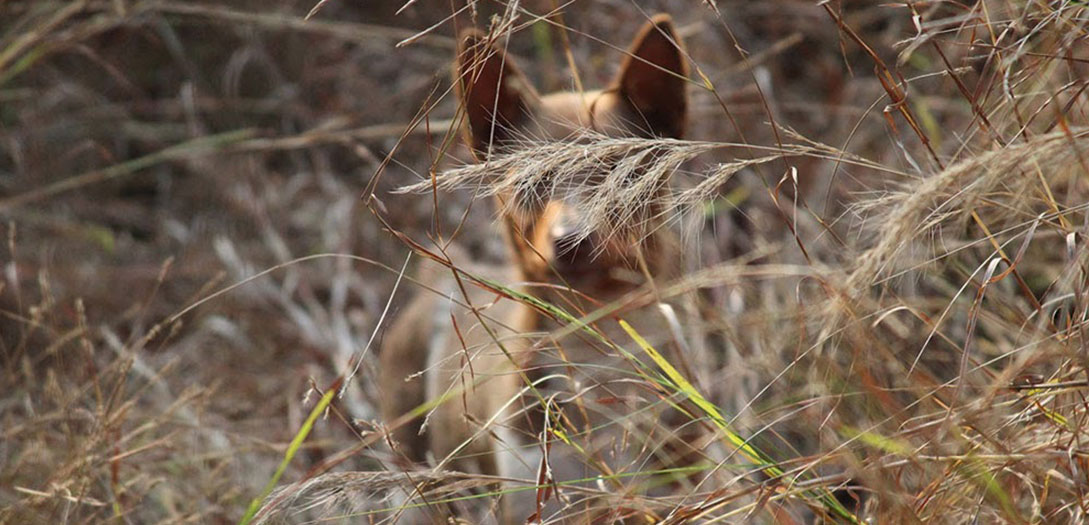 Safari #6 – This evening Safari was at the Khitauli zone. There was no tiger sighting this time, so we had to be content with birding and watching a jackal chase a big mongoose.
And all these Safaris were interspersed by lavish lunch, Yoga and Meditation retreat at the Monsoon Forest Lodge. Yes, you read it right. Monsoon Forest is not just a retreat amid nature, but also a retreat that brings alive nature in you, that kindles up the five elements in your mind, body, and soul. One one end of the tour is the Safaris and on the other this enchanting sojourn connects you to the Divine which is one for all. two things perhaps poles apart, but incomparable! Thus, it was tough to bid adieu to this land, its aura, its ambiance, and its people.
But the wheel of time moved on and time had come to board an overnight train to Katni from where we were transported to Agra – the land of the iconic Taj Mahal; the land of poetic, undying loved carved out of marble. After a hearty tour of this majestic monument, as I sat down at the steps, penning notes in my diary….my heart longed for some more time. And the same emotions could be seen flowing of other friends that I had made on this trip. Such fond memories I was taking back, such peace and love – I was scribbling in my diary, but at heart, I knew my words can never do justice to what I had experienced on this tour to India.
At the end I would love to thank our tour operator, they never let us down. Even the smallest things were executed with the biggest precision – the taxis were always on time with courteous, helpful drivers; the train tickets were bought in advance; all safari permits were in place before we reached; our food would reach us/ be ready and that too done to our taste; the accommodation felt like out of this world; what more? I would love to recommend this trip to all who come to visit India.