Why Must Rajasthan Be Your First Love For A Birding Tour?
Rajasthan is famous throughout India for its royal heritage, fairs, festivals, culture, and forts.
But it is also a bird watcher's paradise with more than 500 species of birds including the migratory ones.
Every year, thousands of bird watchers come to Rajasthan for bird watching. The most popular destinations for bird watching are Jhalana, Tal Chappar, Keoladeo Ghana National Park (Bharatpur), Ranthambore and Sariska National Parks, Desert National Park, Jorbeer (Bikaner), Kheechan, Bera, Mount Abu, and Sonkhaliya (Ajmer). 
Birdwatchers from all around the world come to Rajasthan to watch the migratory birds during the winter months. Rajasthan has great avifauna diversity, of around 510 species with different kinds of birds, including raptors and vultures, larks, sandgrouse, and more. 
While visiting Rajasthan, you will have the opportunity to watch a variety of birds including The Great Indian Bustard, European Roller, Scrub robin, Demoiselle Crane, Waterfowl, Black-bellied Sandgrouse, Saker Falcon, Shrikes, Wheatears, Woolly-necked Stork & much more.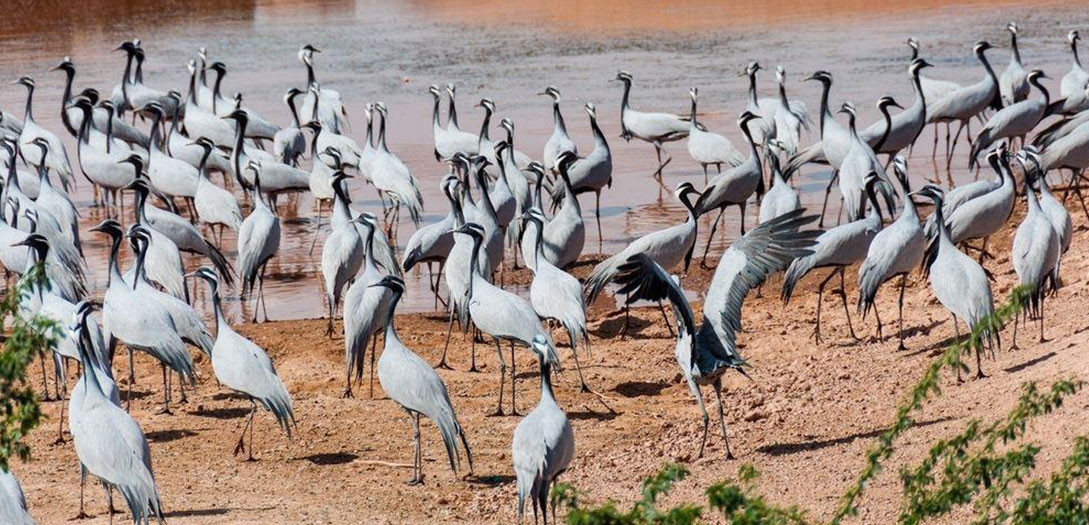 The Demoiselle Crane, a migrant to India, gets its name for its graceful and ladylike appearance.
Perhaps the most famous birding destination of Rajasthan is Bharatpur, formally known as Keoladeo National Park. This mosaic of wetland, grassland, and forest patches, is home to almost 400 species of resident and migratory birds, including Sarus Crane, Knob-billed Duck, Dusky Eagle-Owl, Siberian Rubythroat, and more.
Tal Chappar is famous for the Indian Spotted Creeper, Yellow-eyed Pigeon, and various raptors. It is also a great place to see Blackbuck.
The famous Desert National Park is famous for showing endangered species such as the Great Indian and Macqueen's Bustards, Black-crowned Sparrow-Lark, Trumpeter Finch, and many other desert specialists.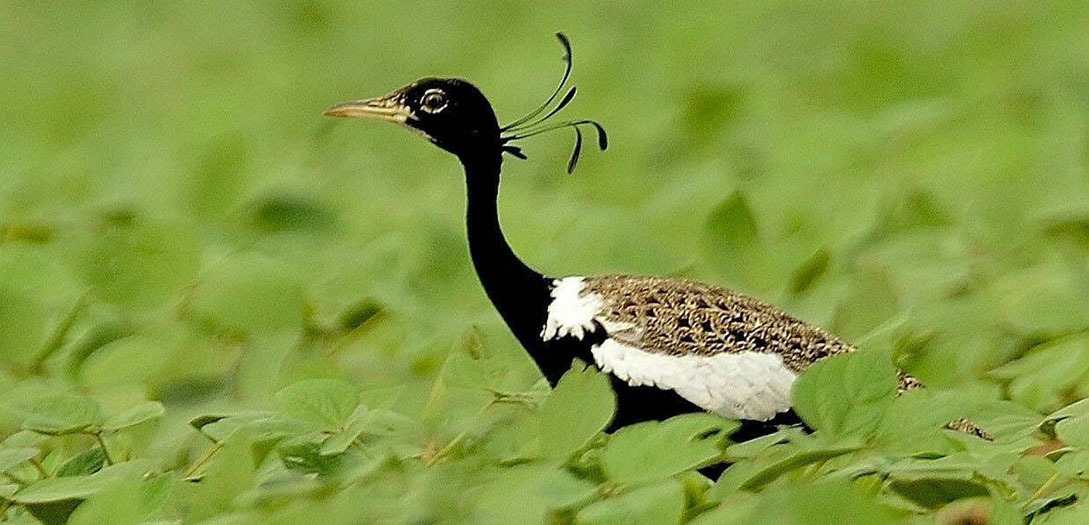 Endemic to the Indian subcontinent, the Lesser Florican is also among the rarest of India's birds.
Sonkhaliya, near Ajmer, is great in the monsoon for rare and hard-to-see grassland birds like Lesser Florican, Rain Quail, Jungle Bush and Rock Bush Quails, and more.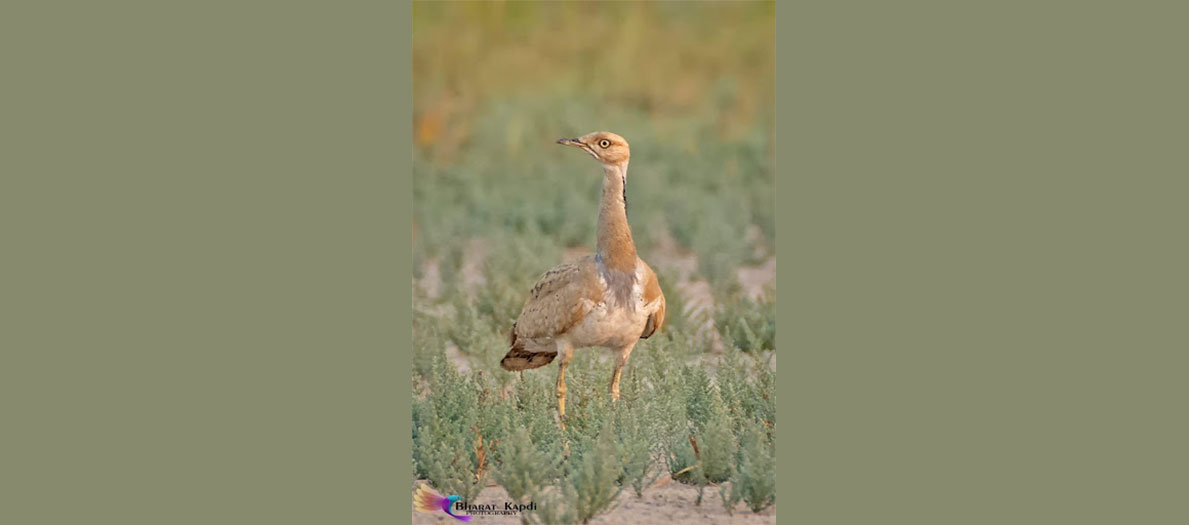 A winter migrant to India, the Macqueen's Bustard is threatened by both poaching and habitat loss
Rajasthan is also home to good populations of big cats. Ranthambhore and Sariska National Parks are great places to see tigers, as well as a variety of forest birds, while Jhalana and Bera are famous for their leopards.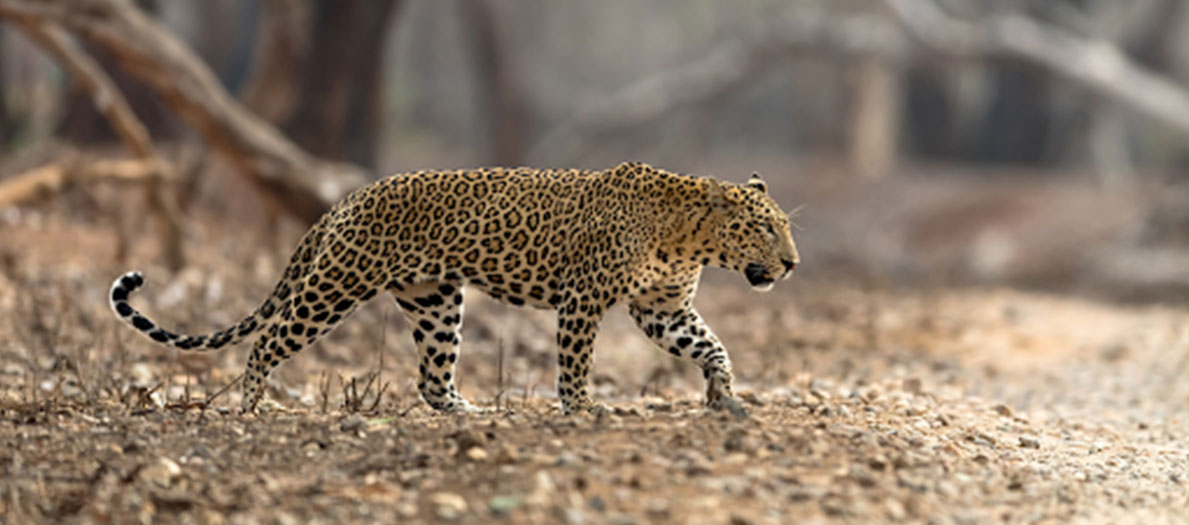 The Leopard is India's most common, and most adaptable, big cat, and found almost throughout India.
Among birdwatchers, Mount Abu is most famous as the only place to reliably see the rare Green Avadavat. The place is also home to birds like White-capped Bunting, White-naped Tit, and more, as well as mammals like Sloth Bear, Leopard, and Chinkara.
Apart from avifauna diversity, Rajasthan also has great avian spectacles, including the Jorbeer Vulture Sanctuary, home endangered vulture species like Griffon, Egyptian, Cinereous, and Indian Vultures, and other raptors like Steppe Eagle and Eastern Imperial Eagle. A more pleasant spectacle is that of the thousands of Demoiselle Cranes that stop along their migration route at Kheechan to feed on the grain that villagers religiously put out for them.
If you are a true bird lover, then Rajasthan will never disappoint you! Just visit the "Land of the Kings" and you will surely have the best bird-watching experience of your life!